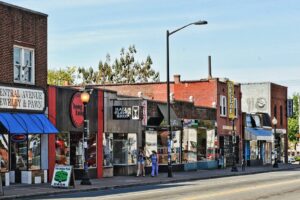 Charlotte's Plaza Midwood is a little edgy, a little quirky, and a lot of fun. This neighborhood embodies the best of Charlotte's diversity, personality and urban character.
Today brand new high-rise apartments encircle a classic dive bar, and hipsters sip coffee while a vibrant cycling community commutes to town. Every fall, the Charlotte Marathon makes its way right down The Plaza in front of cheering fans who crowd their front porches.
Central Avenue demarcates the neighborhood's southern border and captures a lot of its essence. You'll find yourself admiring the elaborate graffiti on the retail strip's brick facades — and elaborate tattoos from its multiple parlors.
Sorry we are experiencing system issues. Please try again.