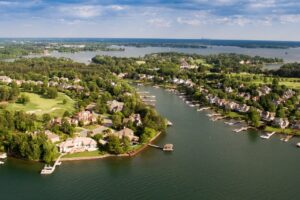 The entire state of North Carolina boasts natural beauty and you'll find plenty of scenic views in Denver. Located in the western part of North Carolina, Denver will keep you nestled among canopies of trees. For those of you looking at homes for sale in Denver you'll find them in all shapes and sizes from waterfront homes to cabins in the woods!
Visit the Wildlife Woods or Rock Springs Campgrounds for a weekend of solitude in the woods. And from Beatty's Ford Park on Lake Norman to Ramsey Creek Park in nearby Cornelius, you'll find no shortage of places to hike.
At the Rock Spring Nature Preserve, you'll find trailheads if you're hoping to get in a workout. Why hit the treadmill when you can visit this beautiful preserve?
The Rock Springs Nature Preserve is home to birch, sycamore, and pine trees. And if you look closely, you might notice a barred owl or deer.
Sorry we are experiencing system issues. Please try again.